Goes by Bella, Annabella, or Foxy. Yeah. Everyone knows her, and she's one of the hated users on the wiki. 
Here are some tips in order for you to survive her grotesque traps + other shit.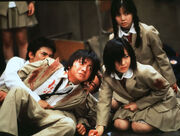 Don't be ****ing annoying, she will automatically kick yo azz in.
Use proper grammar, like dafuq. It isn't that hard to use commas and shiz.
Don't be scared of her, she loves making friends, especially now since she's going through a tough stage.
Be gentle with her, and don't hit on her. She really hates when people do that.
Don't be gross, disgusting, and perverted.
Yeah, she's rude sometimes. But seriously, she's gonna try hard to be nice to everyone around her.
She hates people who are cocky and full of themselves, but she doesn't mind confident people.
Bella has strong opinions about things, so it's just best to agree with her, she hates debating.
Don't ever ask "what's Battle Royale?", she'll go mental as a monkey with a stolen banana.
Please, don't diss her tributes, she works really hard on some of them, and don't you DARE steal one of her names.
Bella's favorite things :)
Edit
Battle Royale. OMG xoxo
She LOVES writing. 
The Hunger Games + Harry Potter, Percy Jackson, Hatchet + OTHER SERIES.
She's actually really bloodthirsty. Loves horror + mental massacre movies.
Revenge (TV Show, although she loves karma + revenge as well ;D)
Names, making tributes for fanfictions etc. 
Netball + Basketball (she's in the A team for both sports)
Rowing and sailing, canoeing, kayaking etc.
Camping, hiking, going on tramps, etc. She loves the wilderness.
Mexican food. Hehe. Salsa. 
PENGUINS
Nicki Minaj <3 SHE DA BADDEST BTCH:D
PLOT TWISTS.
Sleeping under the stars ♥
Archery, shooting deer (with a rifle.) POOR DEER<333
Swingball, tennis. Summer sports. OH SHE LIKES SKIING TOO.
Reading. Yeah, she's read LOADS of books. Tehe.
Gymnastics + Martial arts. She wants to know how to fight D: 
Harry Potter. Books + Movies + Draco Malfoy.
Antagonists, they complete any book at all <3 x
A LOT OF OTHER STUFF. She's tired so she might put up more tomorrow.
FRIENDS!!!
Edit
People I consider my friends :) Sorry if I missed you.
Alice
Anna
Wesley
Josh (Happy Meadows)
Emma
Callam
Beetee
Jason (Angry birds12)
Vinny
Miscy
Den
Misty (TheMysteriousGeek)
Kaitlyn
Rockman
Annie 
Janelle
Ariana
April
Jessa
Savanna
Will
CIMW
Andy
Cass
Lily
Oblivion
Movie
Luna
Luke
Genevieve
Kekai
Zack
Mia
Oli
Ryan
THESE ARE IN NO PARTICULAR ORDER.